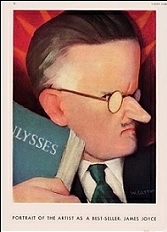 Summer 2004, Web Issue #7


A multidisciplinary
journal in the
arts and politics


FLASHLINKS!

Cover art: Vanity Fair
Copyright 1934


        


             Galerie




     Paintings & Prints
     Poetry & Prose
     Virtual Facsimiles


Founding Editors:
Joe Brennan
Carlo Parcelli
Contributing Editors:
Bradford Haas
Rosalie Gancie
Cathy Muse
Mark Scroggins
Jim Angelo
Web Editors:
JR Foley
Rosalie Gancie
Nicole Foley

---
Fraud most displeases God.
Calm down, myself, and be still.
     Between the
Torments and the Scaean gate,
Surviving in the valley of your
     speaking,
Each word a copy,
Wall before the watcher
(you beat upon that wall
til truth obeys your call)
Atmospheric parting of the
     frieze
Sections of arcadian strata—
Dream intense, swift—
Year to year and crag to crag,
     procuring,
Tread—like a broken chariot,
Enfranchised, from the three
     worlds—
That path of humility which
     leads to reality,
No lodging for you but
     a cold hard stone—
And shout a secret to the stone.
Eating the legumen of
     the algoraba,
Thin from eating flies.
Fulfilling your destiny,
Lord of weak remembrance,
Dissembled, proffered,
     recovered, withdrawn,
(Why not just say, disheveled?)
Rest, perturbed spirit—
     and no fingerpointing!
I'm blown up! Xook.
Impatient for night?
     Every woman is.
          Very well then, here it is, ... --John Ryskamp,
"The Twenty-First Century"





---

All essays, poetry, fiction, and artwork are copyrighted in the
names of the authors and artists,
to whom all rights revert.
                 Bloomsday 2004
                         &
     Louis Zukofsky Centennial
____________________
BLOOMSDAY CENTENNIAL
               JUNE 16, 1904-2004
                    bloom's digestion
                    of the economic and political situation in
                    james joyce's "lestrygonians"
                    rod rosenquist                     lost in mudlin:
                         a first encounter with
                              the city of l. bloom and stephen d.
                    jr foley
                    bloomsday '93
                    bradford haas


zukofsky's "A" and joyce's Ulysses:
epics of fragmentation
kevin fitzgerald
"art new, hurt old:"
"A", Ulysses, and modernist intertextuality
burt kimmelman


LOUIS ZUKOFSKY CENTENNIAL
                                   1904-2004
                    "an objective": rosmarie waldrop
                    "'a horizontal brand'": thomas a. clark
                    "zukofsky's ashtray": mark kuniya
                    zukofsky 24
                     "A" movement of 24 variations on a Z theme

                    holding up the mirror and no more:
                    louis zukofsky's `1892-1941'
                    bradford haas
                     louis zukofsky:
                     the writing of guillaume appollinaire
                    (le style appollinaire)
                     a review by bradford haas
                    blood to the ghosts:
                    biography and the new modernist studies
                    (with special reference to louis zukofsky)
                    mark scroggins


carl rakosi at 100
     "the bottom line"
     "the race"
     "eye, what do you see?"


"the twenty-first century"
john ryskamp
robert hampson:
     "REWORKED DISASTERS:
     or:
     Next Checking Out the Chapmans' Goyas"

"in my career"
joe brennan

"holofernes' head"
larry waugh

"eschatology of reason: the north tower"
carlo parcelli

poetic giants caught in the web
     vs. 40 millimeters and a mole:
          if you criticize the high-modernists
               from the position of "obscurity" nowadays,
                    you're just a lazy fuck!
carlo parcelli



---
     Ulysses -- what more can anyone say about it? Well, for those who love it, it can never end ... either the tale or the talk. If only in celebration! It is the greatest novel in the English language in the 20th century, if not all centuries. Our own FlashPøint celebration, however, is modest as Mr. Leopold Bloom himself on this 100th anniversary of his day of days: a little litcrit (Rod Rosenquist, Burt Kimmelman, Kevin Fitzgerald), a little personal essay ( Bradford Haas, JR Foley).

     Rosenquist, in "Bloom's Digestion of the Economic and Political Situation in James Joyce's `Lestrygonians'," examines what Dubliners choose to stuff into their inner organs during the busy -- but rarely scrutinized -- lunch hour of June 16, 1904, for all it can reveal about what is so close to their noses they barely notice. Bradford Haas and JR Foley, on the other hand, offer personal explorations of Mr. Bloom's city, both in prose and photograph, in "Bloomsday 1993" and "Lost in Mudlin".

     Louis Zukofsky, whose centennial we also celebrate, is less widely-read than Joyce; and to help remedy this deficiency, two writers introduce us to the affinities of the poet with the novelist, but also their divergences: Kevin Fitzgerald with "Zukofsky's "A" and Joyce's Ulysses: Epics of Fragmentation and Burt Kimmelman's "'Art New, Hurt Old:' `A', Ulysses, and Modernist Intertextuality".

     Our Zukofsky celebration proper begins, appropriately, with a fanfare of poetry: Rosmarie Waldrop ("An Objective"), Thomas A. Clark ("'A Horizontal Brand'"), Mark Kuniya ("Zukofsky's Ashtray"), and Hugh Seidman ("Zuk Tape"), himself one of Zukofsky's students. A trumpet of a very different sort is added by "Zukosky 24: "A" movement of 24 variations on a Z theme". Bradford Haas accompanies with both essay, "Holding Up the Mirror and No More: Louis Zukofsky's `1892-1941'", and review (of Zukofsky's The Writing of Guillaume Appollinaire (Le Style Appollinaire)).

     In FlashPøint #6 Mark Scroggins heralded this special issue with "Blood to the Ghosts: Biography and the New Modernist Studies (with special reference to Louis Zukofsky)". Author of Louis Zukofsky and the Poetry of Knowledge (University of Alabama Press, 1998), Scroggins spoke in October 2002 at Cornell University on the special challenges of writing literary biography. His reflections remain fresh.

     When this issue was launched on June 8, 2004, this paragraph read: "The big surprise of this centennial issue is the appearance of a living centenarian -- Carl Rakosi! Apprised of our tribute to his friend and fellow Objectivist Louis Z., Mr. Rakosi submitted three poems that vibrate with that tension of art and politics which is the mission and delight of FlashPøint: "The Bottom Line", "The Race", and "Eye, What Do You See?"." Then three weeks later we heard the news that Mr. Rakosi died on June 25. His death is sad, of course; but the bright fact is he was writing poetry up to the very end of his 100 years. FlashPøint is certainly honored to have received some of his last work to publish in the final month of his very productive life. We add two fascinating obituaries, from England and from Mr. Rakosi's home town, San Francisco, for further introduction to this extraordinary man.

     The living Carl Rakosi supplies one benchmark of the continuing appeal and influence of Zukofsky as well as Joyce; as Kevin Fitzgerald and Mark Kuniya, born in the '70's, supply another; with others of us representing generations in between.

     Several poets in this issue are new to FlashPøint: among them, Robert Hampson, a Professor of English at Royal Holloway, University of London ("REWORKED DISASTERS: or: Next Checking Out the Chapmans' Goyas"), and Larry Waugh, a teacher in heartland Missouri ("Holofernes' Head").

     FlashPøint is proud to present John Ryskamp's brilliant bolt from the blue, "21st Century", solicited when an excerpt from the poem miraculously appeared on a website that otherwise showed no poetic promise at all. A pestilent persona, struck in the mint of French symbolism and surrealism, reflects Prufrock-like upon the arcade and arcadia of his poetic/historical existence.

     Joe Brennan extends his "Poem in Progress" deeper into the present of the 21st Century ... "in my career".

     Carlo Parcelli, whose "Eschatology of Reason: The South Tower" appears in FlashPøint #6, now adds "Eschatology of Reason: The North Tower" to his ongoing deconstruction of the American demiurge, AD 2001 and following. He also rounds out this issue's consideration of two High Modernists with "Poetic Giants Caught In The Web Vs. 40 Millimeters and a Mole: If You Criticize the High-Modernists from the Position of "Obscurity" Nowadays, You're Just a Lazy Fuck!". Parcelli sees the fresh alliance between the High Modernist Epic and The Internet as spelling the end of the solipsistic Levittown drivel ignorant of its own historicity that has dominated poetry for the past 50 years.

     We hope you enjoy this special FlashPøint #7.

-- JR Foley & Carlo Parcelli