Mark Lombardi:
"Death-defying Acts
of Art and Conspiracy"
right:
Oliver North, Lake Resources of
Panama and the Iran-Contra Operation,
ca. 1984-86, (fourth version 1999)
Coloured pencil & graphite on paper.
Collection Daniel Silverstein,
© Estate of Mark Lombardi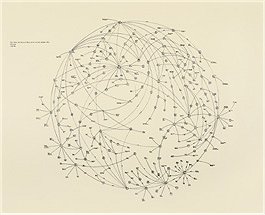 BNL, Reagan, Bush, & Thatcher and the Arming
of Iraq, ca. 1983-91 (1995) (rough draft)

George W. Bush, Harken Energy and Jackson Stephens,
c. 1979–90, (5th Version), 1999, by Mark Lombardi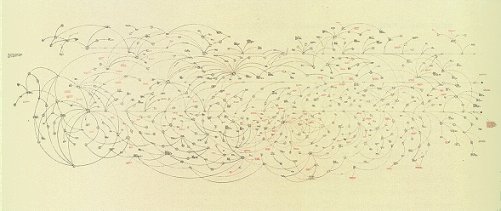 BCCI-ICIC & FAB, 1972-91 (4th Version), 1996-2000
Whitney Museum of American Art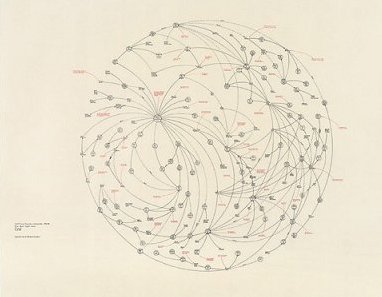 World Finance Corporation and Associates, ca. 1970-84:
Miami, Ajman, and Bogota-Caracas (Brigada 2506:
Cuban Anti-Castro Bay of Pigs Veteran) (7th Version), 1999
Colored pencil and graphite on paper,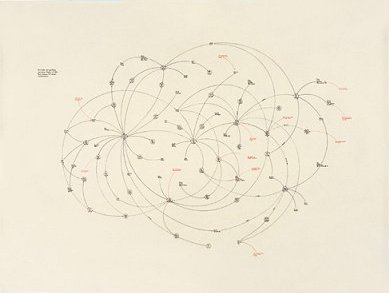 Bill Clinton, the Lippo Group, and Jackson
Stephens of Little Rock,Arkansas (5th Version) 1999
Colored pencil and graphite on paper,
Collection of Janice and Mickey Cartin
---
See Carlo Parcelli's review of Mark Lombardi: Global Networks by Robert Hobbs in this issue of FlashPoint 9.
Additional images & information about Mark Lombardi can be found at the Peirogi Gallery website, along with a bibliography of the personal library which formed the basis of his research. The bibliography is excerpted from "Mark Lombardi: Preparatory Drawings 1994–2000" A catalogue published by Pierogi Press on the occasion of "Preparatory Drawings" an exhibition at Pierogi, Brooklyn. April 2003.
See also "Obsessive—Generous": Toward a Diagram of Mark Lombardi by Frances Richard which appears on The Wiliamsburg Quarterly website.
---