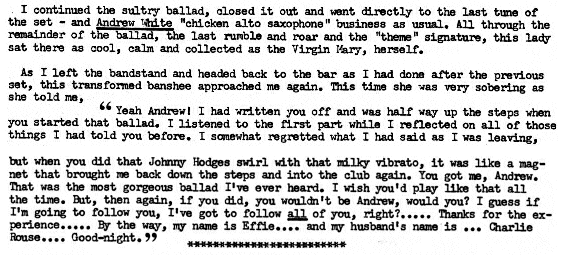 &nbsp
---
&nbsp

"Chicken Alto" is reprinted with the permission of Andrew White, a saxophone legend who has self produced more than 48 albums. It is an excerpt from his recently released autobiography, "Everybody Loves the Sugar - The Book," which is released to coincide with the 30th anniversary of his own company, Andrew's Music. In his own inimitable and shameless way, Mr. White plugs the book thus:

" - See how my life has all pompously come together and/or comedically fallen apart over the past fifty-nine plus years. Gallop with me, "Andrew-The Zorro Sax", all through the pastures, pleasures and pain of racism, religion, love, sex and music. All complete with my perennial, suggestive prurience, total political incorrectness and fiendishly, pious irreverence...... Laff yo a- - off!

- 840 Pages - 16 Pages Of Photos - Hard Cover - Dust Cover - Gold Stamped - Glued - Stitched - And Full Of Laffs!!!!!!"

Copies may be obtained directly from:


Andrew's Music
4830 S. Dakota Ave. N.E.
Washington, D.C. 20017
USA
Phone: 202-526-3666
Fax: 202-526-4013


In FlashPøint #4 Brad Haas reviews Andrew White's
"GIGTIME 2000" and "New Jazz Frontiers From Washington."