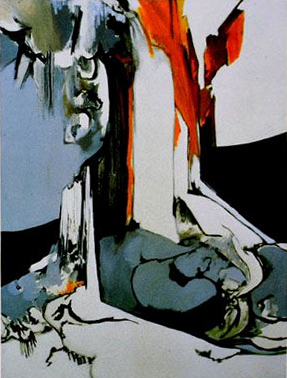 "I could not wish a truer, more urgent language for Nora Jaffe's life and art than Clayton Eshleman's extraordinary poem. And had I not known Nora and her work, I would still call this poem extraordinary." -- Adrienne Rich, 1996
from
NORA's ROAR
Clayton Eshleman
In Memory of Nora Jaffe (1928-1994)
As she recedes, living still,
first lung, now liver,
I am turning to
"The everlasting eyes of Pierrot
And, of Gargantua, the laughter"
her laugh
Ohio Gothic, bass
swoons, a booming of merriment,
we lay in the dawn road pickled
while others dropped salt into our mouth.

To wake and to think only of the wine to come,
the wine of the work of drawing,
to need only this wine, to live
in near obscurity, happy
within the frame of imagination, this word
we mob,

it is our only refuge.

[7 October, 1994]

the wake an elegy stirs... something to be listened to.
I find you everywhere, mainly as voice echo,
I think of you, then hear you before I see
entoptically a blur of your face...
the unheard voice then resilences. The silence
opens out, chimes of Habilis, Erectus...
the wake of elegy, dirty churn of what
the voyage rejected,
standing at the stern of what life might be,
it keeps you pinned in me, as I pine,
semi-conscious unplugging of a bathtub
in which the water used doesn't want to leave ...


Most just, I guess, to find you
in the flux of realization and grief.
As ash, you are a complete whatever,
and it is hard to comprehend that anti-force.
I string it on my feeling for you

to go overboard with you,
to honor your rich void.
I am gaining this word by word,
for the loss is at odds
with something curdled in praise.
The grand "So What" flicks by,
at Miles Davis with my need to bulge an
absence/ presence.

Sadness once meant "solidity,"
"steadfastness in faith,"
but nothing will support my sadness this week,
a wandering distraction, as if
Nora's death were a jellyfish box
adrift in my atmosphere.
Death has four sets of eyes, no brain,
one set for each side of what we call direction.
Death's mouth is over its eyes...
my sadness is layered, pillow-like, or tarps
with pillows pressed between,
moistened but not drenched, stranded
adrift... as all senses of her
cancel, recompose,
"Procession of the Quick"

The upward piling impulse of eternity. Cloud-like, rock-like, forms, jostling
against -- here it comes again -- absolute absence.
A leg, thigh and calf, bent, lower left hand corner, gets me interested in the
physicality, the eros? of the painting, now I spot a male back lunging up-
ward, whose head disappears in a kind of window of winter trees. His right
arm droops, leading me to a woman -- it's Nora herself! -- eyeballs rolled up,
hair stark black and funnel-like swooping up into the upper right corner.
The work now looks draped, an upward piling, weighted, with loose, body-
like forms, detonated below, into floating, bumping, somewhat phallic blocks
-- on which the rest of the painting "stands" -- it doesn't really stand, it
wobbles, tectonic, as if on plates? (suddenly the buttocks of the upward
lunging male look like an amazed lion!)
The form argues, wrestles with, the punctilio of human desire salted, as
ground, for a realization of the form to grind against. Nora Jaffe depicts
herself under a roving, blank cloak of men, as they surge around, across,
and over her. The procession of the quick, being overwhelmed, as the quick
(and the dead?) pile into paradise, over the body of the painter --
Cocks abound, but as often in Jaffe they are syntactical eels, the patriarchal
thrashing in the net of an imagination that instead of practicing political
correctness prefers, demands, the re-leasing of the obsession. Coils of rape
are here bounded but not dismissed --
the out-of-in-balance of the painting amazes me. I'm stuck
with the use of the female (Nora) body overlayed by blankets
(lacunae) of quasi-phallics. Now I lay me down to sleep.
The garment of the world: stitched peni. O
mother: where? As the garment out of which the cocks are stitched.
O father: why? Isn't it wonderful how semi-abstract,
charged and essentially formal works dump our psyche
upward? My father made me a blanket out of my mother, ay!
then withdrew it, leaving me with my first tooth!
oh! and it is around this tooth that I have weaved my poems,
weave, woven, sploven... the spindle bursts,
yet a King now appears at the crest of "Procession of the Quick"
-- the winter landscape is his crown,
his body that of the lunging man,
willynilly covering the now double female body
(two heads, Nora's and what I took to be another man's)
and he is kind of dancing, as he fucks,
lifting a Subcommandante Marcos leg, as an insult to
all fashion, as a shark form noses in...
But why two women? Why both at once?
We are in orgy at every moment (too many unused parts)



This sadness is without edge
or forcep, it is weighted with total absence,
which is the difference
between Nora's ashes, and Nora, it can be
weighed in mind, it is fractal
and thus not without contour,
it is the toothed heart of a black hole,
what the star feels in its inexhaustible extinction...
Sadness, then, is a protection,
a kind of Covering Harem,
it is sweet, as "The Wild Rose" in Budapest is sweet,
nostalgia mired in cool fat, a piano player
whose elderly foetal head, with stuff oozing onto the keyboard,
smiled at us, the eaters,
jellyfish box abob...

Our friendship was blessed with an erotic lining.
My eyes turned off before Nora's art
and something else turned on --
a glade would appear, compact male flesh
reorganized, penis shifted to armpit,
thigh used three ways, as stalagmite, Long Island, floe,
libido frozen, on the trail of her hand
finding its way through a Black Forest of male
joy and imposition.
Seeing the extent to which
she had imagined her masculine-fraught destiny,
I knew male force was grasped, and that she was free
-- for a moment. We can deal with nearly anything
-- for a moment. In miniscule time,
a stroke, or an image, is paradise,
darkness a chrysalis of unharvested stars.

She had reorganized the male tentacles
and glimpsed what Bosch envisioned
-- while she smoked.
In her breath, steel doors began to rot.
She hurt herself
as who does not who has glimpsed the other as
"Dear Fellow Particle?"

It is very transpersonal, never private,
how the pylon figures of our lives
rub open scars and palpitate the antique
feeling under,
another flesh, which the pylon detects.

Nora is Egyptian,
a gorgeous baboon
in whose slender figure my language
is hived.





To learn to love your death.
Is this not the requirement? not to love death,
but to love you in death,
to learn nourishment from your absence.

Dear now ancestral spirit, you feed me
as do the spirits of poets dead but for the page,
or frame, of chaos, white
for these ant legions.

Is it not the chosen dead blowing
energy into these lines? Yes, I have good energy,
but it is nothing compared to
Nora as ash, the microscopic gale
in the thought of her,

billowing, these dead who make life-in-image possible,
we all work at a single world poem,
a hybrid exchange,
I become pregnant with Nora's soul,
I swell at night, cannot rest, I sleep
but do not rest...

how beautifully herbs break in, fumes and
filterings, by which her presence is
swarming, micron by micron, with the jest of absence,
like tiny wine flies...


Nora's spell, terrible to be a speck in this exchange.






As she rises, or seems to hold,
while rising, the anaconda
tree trunk, writhe,
rise, it is the sound of whiteness,
as she pulleys up, her right
hand spider-walks the trunk,
making a lingam: combined
arm hand trunk,
as she rises
in place, out of the fern
white, her rising is
white infested,
mascara


no pupils
(work this also in:
work her hood in, her head
held to the tree, to
anaconda white
speckled
bark,
the phallus was
what she could put inside her of
the tree, up inside her
the bandaged
anaconda, I under-
stand now,
it was the trunk
she loved, the sap
in its bark helmet, the serpentine.
...........................
---
(The complete "Nora's Roar" is available from Rodent Press, Boulder, CO,
and also appears in From Scratch, Black Sparrow Press, 1998.)


description from Third Mind Books :
Nora's Roar
ISBN:

Boulder, CO: Rodent Press, 1996. First Softcover Edition. Stapled Wrappers. Signed by Clayton Eshleman. A large-format chapbook-style volume with the title poem by Clayton Eshleman, the renowned poet, translator & educator who has long lived in Michigan. The poem is dedicated to the memory of Nora Jaffe (1928-1994), an artist who was a close friend of the poet & whose compelling illustrations grace several of his books, as here. Jaffe's life, friendship with the poet & death are the subject of this poem, a somber tour-de-force among his prolific output. As noted on the copyright page, this first trade softcover printing was published in February 1996. Also as noted, the beautiful endsheets for this production "...were designed and letterpress printed by Brad O'Sullivan on the Kavyayantra Press at the Naropa Institute" in Boulder, Colorado. The Institute (now Naropa University) is the home of the Jack Kerouac School of Disembodied Poetics, founded by Allen Ginsberg & Anne Waldman. Eshleman has hand-signed his name on the title page. A very desirable Eshleman-Jaffe collectible. In very fine condition with only a tiny amount of short, faint creasing around stapled areas of spine, likely as issued; otherwise substantially mint inside & out. Very Fine. [Item #2592]