---
T.J. Anderson
Variations on a Theme by M. B. Tolson
(1969)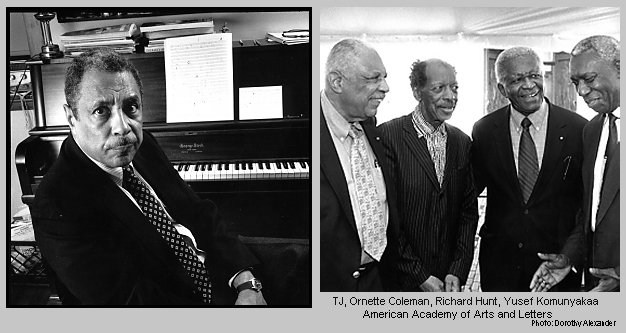 from: tjandersonmusic.com
---
T.J. Anderson: Variations on a Theme by M. B. Tolson
for mezzo-soprano, alto saxophone, trumpet, trombone, violin, cello, and piano (1969).
Jan De Gaetani, mezzo-soprano
The Contemporary Chamber Ensemble diretto da Arthur Weisberg.
---

Charles Wuorinen from the LP's liner notes:
&nbsp T. J. Anderson's concern with the wider recognition of black cultural and historical experience informs his present oeuvre. His Variations take as their "theme" excerpts from the work of the black poet M. B. Tolson (Harlem Gallery, Book I: The Curator and Libretto for the Republic of Liberia) , and the composer declares that "the theme has to do with humanity. It is about black life, about suffering...."
Anderson's polemical purpose is served through his investing of the text with a recitative-like accompaniment and manner of delivery, which unites his skills as a composer of twelvetone-derived music with certain elements from our general jazz heritage. Much of the text, especially its central homiletic sections, is spoken, and there is no attempt to ornament the words through concerted or through composed instrumental material.
But, particularly in the blues-like concluding section, text and tone fuse in an elaboration of accompaniment with repeated and atomized words, phrases, and sentences of the text; and these propel the work toward its explicitly blues-inspired final moments.
Variations on a Theme by M. B. Tolson was composed in 1969; it was given its premiere in Atlanta in May 1970, with the composer conducting-members of the Atlanta Symphony Orchestra. (Charles Wuorinen from the LP's liner notes).
---