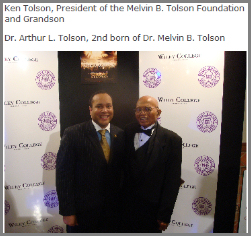 Ken Tolson is President of
The Melvin B. Tolson Foundation
from National Public Radio:

Grandson Tells of 'Debaters' Coach Tolson's Legacy
links to an audio recording and transcript of December 31, 2007
from the website:
Ken Tolson is the real-life grandson of Melvin B. Tolson, whose work as an educator, mentor and poet is highlighted in the new film The Great Debaters. The story gives moviegoers a look at the life of Tolson, and the all-black debate team that historically defeated an all-white team in the 1930s.
---
Melvin Tolson's Grandson Discusses His Legacy
and links to a recording from December 24, 2007
from the website:
The Great Debaters is based on the true story of Melvin B. Tolson, a professor at Wiley College in Texas. In 1935, Tolson inspired and led the university's first African-American debate team to compete in the national finals and beat the University of Southern California. His grandson, Ken Tolson, shares his grandfather's story and Melvin Tolson's impact on society.