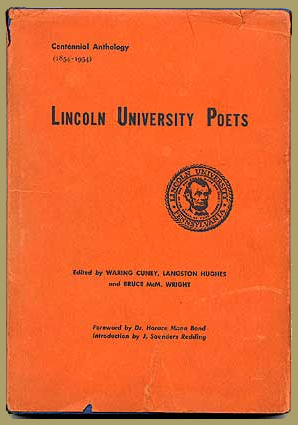 Lincoln University Poets
---
Fine Editions Press, NY 1954
First edition. Edited by Waring Cuney, Langston Hughes and Bruce McM. Wright. Foreword by Dr. Horace Mann Bond. Introduction by J. Saunders Redding. Fine in an about very good dustwrapper with small tears and a tiny chip. One of 1000 copies of this Centennial anthology of poems by graduates of the traditionally African-American university with contributions by the three editors, as well as by Melvin B. Tolson, Edward Silvera, George Chester Morse, John M. Williams and several others. This copy has been Inscribed or Signed by editor Wright, Raymond Patterson, Herman R. Branson (President of Lincoln at the time of the presentation), and several other African-American literary figures and/or Lincoln alumni and faculty. Laid in is a letter from the Director of Alumni Relations informing his correspondent that they have no address for Waring Cuney. Scarce title.
Between the Covers-Rare Books, ABAA
Gloucester City, NJ, U.S.A.