---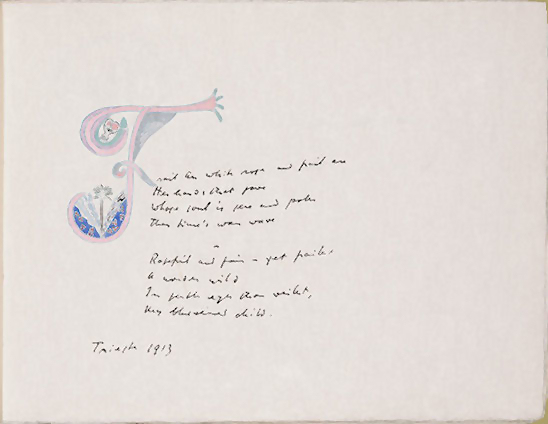 [A flower given to my daughter]
a part of Pomes Penyeach by James Joyce
Initial letters designed and illuminated by Lucia Joyce.
Paris : The Obelisk Press ; London : Desmond Harmsworth Ltd., 1932.
26 x 33 cm.
---
Selections are from the Yale Beinecke Jame Joyce Papers collection.
A full citation is listed at the end of this page.
Below is a selection from a history & commentary about Pomes Penyeach by Anthony Domestico.
text from: The Modernism Lab at Yale University
http://modernism.research.yale.edu/wiki/index.php/Pomes_Penyeach
The 1932 edition consists of 13 poems printed on 9 loose folio sheets folded and placed on top of each other. The text of each poem is a facsimile of Joyce's own cursive (oftentimes messy) handwriting printed in black ink. The pages themselves are Japan nacre, and the rough edges and uneven coloration give them the appearance of handmade papyrus. On top of each page, there is a piece of transparent tissue paper that contains the text of the poem printed in green. The loose sheets were placed in a portfolio of pale green silk, the color of an apple (pomme is French for apple). The folio sheets do not have titles for the poems (although the tissue paper sheets do); the reader's eye is thus initially and most compellingly engaged by the illuminations, by their play with color and shape, rather than by the texts of the poems themselves.
The title page reads (in Joyce's handwriting), "Pomes Penyeach / by James Joyce / Initial Letters Designed and Illuminated by / Lucia Joyce." In the bottom right-hand corner, there is an abstract design by Lucia. The grey and bluish design bears a resemblance to a snake's head (this motif will recur throughout the illuminations) or perhaps a book placed on a stand, a possible allusion to the book's status as a Bible-like illuminated manuscript. The title page stresses the collaborative aspect of the project, as well as its handmade nature: both father and daughter's names appear, and we see the pen strokes of each in the title and design, respectively.
- Anthony Domestico
---

Title
[A flower given to my daughter].
Physical Description
1 l.
col. ill.`
26 x 33 cm.
Note
Guard sheet pasted on each leaf of text. Untrimmed. Entire work in facsimile of Joyce's hand.
Part of
Joyce, James, 1882-1941.
Pomes penyeach / by James Joyce; initial letters designed and illuminated by Lucia Joyce.
Paris : The Obelisk Press ; London : Desmond Harmsworth Ltd., 1932.
Call Number
Iq J853 P63 +1932
Cite as
Beinecke Rare Book and Manuscript Library, Yale University
Bibliographic Record Number
2012592
Image ID Number
1054393
URL link to this page
http://beinecke.library.yale.edu/dl_crosscollex/brbldl_getrec.asp?fld=img&id=1054393




---
Photo of Lucia Joyce by Berenice Abbott
---