In 1932 she and Theremin demonstrated their findings to the New York Musicological Society and Bute read one of his papers, "The Perimeters of Light and Sound and their possible Synchronization".

While working with Theremin, Bute expanded her knowledge of light & color. Lauren Rabinovitz reports that Bute's writings & lectures around this time "are specialized discussions of sound and light physics as well as a rich synthesis of the work of color harmonists since the seventeenth century." [3]
Theremin's studio was visited by both artists & scientists. Around this time Bute also began working with musical theorist Joseph Schillinger, who was himself familiar with Theremin's studio. She was also acquainted with Schillinger through her work in the Visual Department of the Gerald Warburg studio. Warburg, the famous cellist, had been a student of Schillinger's & was a well-financed supporter of the arts. He was a founder of the Stradivarius Quartet, and offered support to individual artists as well. In the 1920's he temporarily subsidized composer Ernest Bloch. And in 1932, using Schillinger as a middleman, he commissioned a custom electric organ from Theremin.

Schillinger and
the Rhythmicon



Above: Schillinger Artwork at the Smithsonian American Art Museum.
Right: Schillinger's Graph Notation: Rondo movement of Piano Sonata, no. 8, op. 13
in C minor "Pathétique" by Beethoven.
Joseph Schillinger Papers, Archives of
American Art, Smithsonian Institution




Schillinger had developed the Schillinger System of Music which was a mathematically based method of composition. According to Wikipedia, "In 1932, he joined with composer-theorist Henry Cowell to publicly introduce the Rhythmicon, the first electronic drum machine, which Cowell and Léon Theremin had collaborated in inventing." The introduction was a success. The composer Charles Ives commissioned one from Theremin with modifications and said he was relieved to "know especially that the new one would be nearer to an instrument, than a machine..." He commissioned the Rythmicon for Nicolas Slonimsky and Henry Cowell.

Nicolas Slonimsky commented that the Schillinger System of composition "seemed to work in practical application". While many avant-garde composers such as Cowell had approached Theremin and Schillinger in their quest for new instruments that would produce new sounds, the 'practical application' of the Schillinger compositional system attracted an even broader range of interest. According to Albert Glinsky's Theremin biography, George Gershwin came to study with Schillinger three times a week for four and a half years. Glenn Miller, Benny Goodman, and a host of Broadway and Hollywood figures 'flocked to study at his apartment'. (Glinsky, p. 133)
Bute's association with Schillinger and his method of composition ultimately led to her finding her 'moveable canvas', which was film:
Visual composition is a counterpart of the sound composition, and once I had learned to do the sound composition, I began to seek for a medium for combining these two and found it in films. I was determined to express this feeling for movement in visual terms, which I had not been able to achieve in painting, and I was determined to paint in film...

- Mary Ellen Bute, "Composition in Color and Sound"
unpublished lecture typescript, n.d., p.1, Bute papers
quoted by Lauren Rabinovitz, 'Mary Ellen Bute', p.133,
Chapter 13, Jan-Christopher Horak's, Lovers Of Cinema:
The First American Film Avant-Garde, 1919-1945
Her work with Schillinger led to the film Synchromy (1933), an abstract compilation of light and sound with 'Kandinsky-like' drawings prepared by Bute and Elias Katz. She worked on the film with noted film historian Lewis Jacobs.

Her continued work on her pioneering film projects led her to another collaboration, both personal and professional, with producer-camerman Ted Nemeth who became her husband and her partner in Ted Nemeth Productions.
She continued to seek out talented partners for her work. On the Mary Ellen Bute LichtMusik webpage at you can see her artist's eye at work as Rutherford Boyd's sculptures are animated in Black & White film to Darius Milhaud's La Creation du Monde.


Left: Cover Photo
Science into Art: The Abstract Sculpture and Drawings of Rutherford Boyd (1882-1951)

Right: Image from Parabola, an example of the mature artist's
eye at work from:
Mary Ellen Bute: LichtMusick
Institut für Medienarchäologie

She worked on films with the noted Canadian animator Norman McLaren, and continued her pursuit of mechanical means of light manipulation by working with Dr. Ralph Potter of Bell Labs in developing an oscilloscope to use for drawing. Images of Bute with the oscilloscope can be found on the Center for Visual Music website.


It's been noted that Mary Ellen Bute's artistic career lay outside the purview of the isolated artist working privately. Her films were shown at movie theaters around the country, including Radio City Music Hall.


Though her artistic beginnings were in painting, her interest in finding the right mechanical method for pursuing her vision led her immediately into the performing arts. Perhaps it's not surprising that she found a more public, commercial sphere for her work than other avant-garde film artists of her day.


Wilfred and Theremin, in addition to being inventors and theorists, were "show men". Both performed at Carnegie Hall and worked toward having their work shown in accepted, commercial venues. Though Bute's vision was outside of the typical Hollywood film short, she was quite comfortable with professionally negotiating to have her film screened at large movie theaters, as a short interlude before the screening of the main attraction.


Perhaps her associations with well-established composers and inventors eased this process for her. As Cecile Starr has noted, her career did not conform to that of the smaller, independent film club enthusiast.


There are other sites that cover Bute's work with animated film --you can find links to these sites on our Mary Ellen Bute Links page.


Before her death she was preparing a film about Walt Whitman. It was unfortunately never finished. It would have been interesting to see what her inventor's eye would have brought to the Whitman heritage.










---
FOOTNOTES
1.
The National Archives of Ireland
"James Joyce and Ulysses" online exhibit
http://www.nationalarchives.ie/topics/JJoyce/ccinema.htm

Commentary No. 10 - Department of Justice file on cinemas in Dublin (1922)

When Joyce was living in Trieste he and his family frequently went to the cinema, and it struck him that Dublin had no cinema. He persuaded a group of Triestine businessmen to put up the money to establish one, with 10% of the profits to go to himself. He came to Dublin in 1909, secured a premises at 45 Mary Street, renovated and fitted it out, hired staff, got a licence, and opened to the public on 20 December 1909. He called it the Volta after a cinema he liked in Trieste. The Evening Telegraph of 21 December noted: "Yesterday at 45 Mary St. a most interesting cinematograph exhibition was opened before a large number of invited visitors. The hall in which the display takes place is most admirably equipped for the purpose, and has been admirably laid out…The chief pictures shown here were 'The First Paris Orphanage', 'La Pourponierre', and 'The Tragic Story of Beatrice Cenci.' The latter, although very excellent, was hardly as exhilarating a subject as one would desire on the eve of the festive season."

Lack of exhilaration must have characterized further programmes, for the venture collapsed in July 1910, and the building was sold to the English Provincial Theatre Company, at a loss to the investors...

---
A selection from
Film Ireland 16
by Dennis Condon further examines Joyce & the Volta: http://www.britmovie.co.uk/forums/random-film-tv-radio-talk/19272-volta-myth.html
The Volta Myth

It is a widely-held belief that Ireland's first dedicated cinema was the Volta, managed initially by James Joyce. But what if it wasn't? Denis Condon examines earlier cinematic venues, including the Popular Picture Palace at the Queen's Theatre.
'In England there is a growing demand for cinematograph entertainments', announced Dublin's Evening Mail in February 1908. 'Every important town has its permanent "picture show", and the Colonial Picture Combine see no reason why Ireland should not be adequately represented in this respect.' The occasion of this statement was the opening of what was soon being advertised as the People's Popular Picture Palace at the former Queen's Theatre in Dublin's Brunswick Street (now Pearse Street). This venue was probably Dublin and Ireland's first dedicated cinema, opening almost two years before Ireland's best-known early cinema, James Joyce's Volta opened its doors on 20th December 1909.
It is curious how persistent the myth of the Volta has been in both popular and academic accounts of Irish cinema. The link between Ireland's most celebrated 20th century writer and the most powerful medium of the 20th century makes such a good story that the misconception that the Volta was the first cinema in Dublin – and according to some accounts in Ireland – has circulated virtually unchallenged since it appeared in Richard Ellmann's 1959 Joyce biography. The Volta was undoubtedly an important early cinema, and the Joyce connection has provided the focus for some fine research. The significance of the Volta has, however, been inflated to the extent that it has essentially come to represent Ireland's first cinemas, and thereby to distort our view of early cinemas and the audiences who attended them.
---
2.  Albert Glinsky, 

Theremin: Ether Music and Espionage, 

U. of Illinois Press (2000),
Chapter 5: The Ether Wave Salon, p. 139, from a speech by Mary Ellen Bute before the Pittsburgh
Filmmakers, Pittsburgh, June 30, 1982, (MS), courtesy of Kit Basquin.

3.  Lauren Rabinovitz, Chapter 13: "Mary Ellen Bute", pages 215-334 from
Jan-Christopher Horak, Lovers Of Cinema: The First American Film Avant-Garde, 1919-1945,
University of Wisconsin Press (1998)


---
Additional Sources

Robert Russett & Cecile Starr, Experimental Animation: An Illustrated Anthology,
Van Nostrand Reinhold (1976).

John Gage, 

Color & Culture

,  University of California Press (1999).



Science into Art: 

The Abstract Sculpture and Drawings of Rutherford Boyd (1882-1951)




Publisher: 

Hirschl & Adler Galleries, Publication Date: 1983




Websites:

Center for Visual Music - Mary Ellen Bute Research Site
http://www.centerforvisualmusic.org/Bute.htm

This comprehensive site includes information about
- The Films / Retrospective Program / Upcoming & Recent Screenings
- Selected Bibliography and Texts
- Selected Statements by Bute About her Films
- Biographies
- Production Material, Ephemera
- About Finnegans Wake

Colour and Sound, Visual Music by Maura McDonnell (2002)
An informative, illustrated history of 'colour music' with references to the futurists among others.
http://homepage.tinet.ie/~musima/visualmusic/visualmusic.htm


Modern Mechanics 1924
"Birth of Music Visualization (Apr 1924)
great source for older images & articles on unusual inventions
http://blog.modernmechanix.com/2007/03/29/birth-of-music-visualization/#more-2132
http://blog.modernmechanix.com/2007/03/page/2/


Yale University Manuscripts & Archives - Digital Images Database
Clavilux Images - photos, ads, and schematics
http://images.library.yale.edu/madid/showThumb.aspx?qs=16&qm=15&q=clavilux

Theremin - Wikipedia entry:
The theremin is an early electronic musical instrument controlled without contact from the player. It is named after its Russian inventor, Professor Léon Theremin, who patented the device in 1928. It was originally known as the termenvox or aetherphone, the former of which was subsequently anglicised to theremin /ˈθɛrəmɪn/[1] (sometimes misspelled as theramin). The controlling section usually consists of two metal antennas which sense the position of the player's hands and control oscillator(s) for frequency with one hand, and amplitude (volume) with the other. The electric signals from the theremin are amplified and sent to a loudspeaker.
The theremin is associated with an eerie sound, which has led to its use in movie soundtracks such as those in Spellbound, The Lost Weekend, and The Day the Earth Stood Still. Theremins are also used in art music (especially avant-garde and 20th- and 21st-century new music) and in popular music genres such as rock.
----Note: there are many Theremin videos on youtube.com , including a virtuoso performance by Theremin star Clara Rockmore: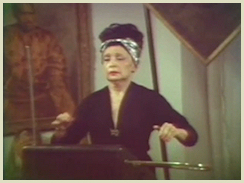 ---