BRADFORD MORROW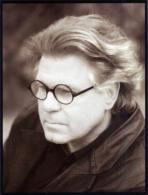 ROBERT COOVER
is ...

a dynamo. A writer's writer. A thinker's thinker. A satirist's satirist. A teacher's teacher. A friend's friend. A mentor, a mensch, and, of course, a wine connoisseur's consummate wine connoisseur.
To hear Coover give a reading is to be in the presence of a genuine force of nature. Here is an author so close to his work that the words on the page become energized and the text feels like an on-the-spot invention, less words on a page than an oral creation complete with thespian gesticulations and the occasional forefinger pushing eyeglasses back to the bridge of his nose to punctuate the punchline, drive home the point. He's athletic, seems never tired. Boyish, but sage as a village elder. Less dreamer than doer, though his dreams must be doozies. A generator of ideas, a reinventor of the received, a live wire.
Here are just a couple of Coover stories that may serve as examples of what I'm getting at.
Once, back in the late eighties, not long after I first met Bob, I traveled up to Providence to interview John Hawkes for Conjunctions. Jack and I planned to finish our talk over a bottle of Muscadet and afterward have dinner at the Hawkes's house on Everett Avenue with Bob and Pilar Coover, along with Mary Caponegro. When the interview was over, Jack and I congratulated each other on how wonderfully it went, only to discover that the batteries on my tape recorder had died about twenty minutes into our exchange. The whole endeavor looked doomed until Bob showed up with new batteries, an excellent Albert Pic Chablis, and a spirited bonhomme that pointed the way to a new interview altogether, one reinvigorated by Bob's participation right there during dinner. Rowdy and inspired, everybody at the table teased out some crazily visionary ideas from our host, not the least of which was an animated monologue about how Hawkes's dream was to be a swamp, "... fresh, luscious, lovely, full of color, peaceful, yellowish. It's all slime... [a] swamp full of slime. The most beautiful word in the English language is slime. Think of what it suggests. Saliva. Salacious. Sin." This was only the beginning of the evening and a dialogue with Hawkes that was salvaged by Coover's generosity.
Another. When Bob came to Bard College to discuss A Child Again with my class and to give a public reading afterward, he made the mistake of asking me which story I'd like to hear him read. One of my favorites among his many books—a collection I shelve side by side with my well-read copy of Angela Carter's Burning Your Boats—A Child Again includes any number of juicy possibilities. Sensing it was far too long, I nevertheless requested that he give "Aesop's Forest" a try. Not only did Bob not demure at my somewhat preposterous suggestion, he took it as an interesting challenge, stood up to the microphone, and delivered an unforgettable performance, galloping through the narrative bits, savoring the sly puns and serio-comedy, booming the dialogue with subtle fury. Well-known for his stylish, prodigious readings, he outdid himself that afternoon in Annandale-on-Hudson.
So, here's to you, Robert Coover. Your humor, your humanity, and your honesty as a fiction writer are equaled only by the great depth of magnanimity you have shown all of us who are fortunate enough to know you.

"Robert Coover: A Few Notes" appeared originally in the Robert Coover Festschrift of The Review of Contemporary Fiction, Spring 2012, Vol. XXXII, and is reprinted with permission.


-------------
Bradford Morrow's new novel is The Prague Sonata. Among his other books are The Diviner's Tale, Ariel's Crossing, Giovanni's Gift, Trinity Fields, The Almanach Branch, Come Sunday, The Uninnocent, and Fall of the Birds. He is the founding editor of Conjunctions, and he teaches at Bard College.